What is the event about
Fostering Innovation for Global Security Challenges INTERPOL World is a biennial international security trade event owned by INTERPOL – the world's largest international police organization with 190 member countries. Scheduled to be in Singapore from 14-16 April 2015, INTERPOL Worldwill be held in conjunction with the official opening of the INTERPOL Global Complex for Innovation (IGCI) on 13 April 2015 and the 22nd INTERPOL Asian Regional Conference from 15-17 April 2015.
INTERPOL World provides unprecedented opportunities for security manufacturers and solution-providers to interact with international police organizations, law enforcement agencies and security professionals to identify current and future challenges and offer innovative solutions. It also promotes public-private partnerships to develop and drive security initiatives for real world security situations. Heads of States, Governmental high representatives, Chiefs of Police of INTERPOL's 190 member countries and at least 450 key decision makers from INTERPOL and law enforcement community will be invited to attend INTERPOL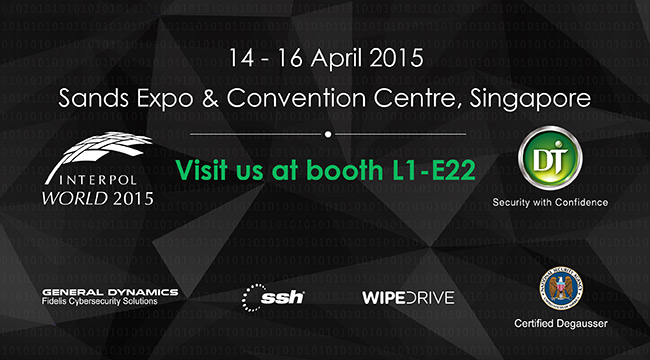 Supported by Singapore Ministry of Home Affairs and managed by MP International, INTERPOL World will focus on 4 main domains, but not limited to: Cybersecurity, Border Management, Safe Cities and Supply Chain Security. The three-day event will also play host to over 250 international and local exhibitors and 8,000 trade and professional visitors.
Getting to INTERPOL World​
Sands Expo and Convention Centre Marina Bay Sands 10 Bayfront Ave Singapore 018970 Located in the heart of Singapore's central business district, Marina Bay Sands is the ultimate destination for entertainment, business and shopping. The landmark building comprises a luxury hotel, state-of-the-art convention and exhibition facilities, theatres and some of the finest shopping and dining in the region.
Direction
By Car
Car park entrance is located at Sands Expo and Convention Centre via the Bayfront Link (enter from Bayfront Avenue and turn right into covered car park). Valet parking is available at entrance driveways of Hotel Towers 1 and 3, and Casino.
Alternatively, drivers may opt for the Park and Ride scheme where a satellite car park will be operated at Marina South (located on Marina Grove). Under this Park and Ride scheme, for a fixed $10 entry fee, drivers can park their vehicles and board the Marina Bay Sands shuttle bus at the entrance of the car park to travel to the property.
By Mass Rapid Transit
The nearest MRT station is the Bayfront MRT Station (CE2 and Exit B, C, D and E).
By Bus
Bus services to Marina Bay Sands include SBS 97/97E, 106, 133, 502/502A, 518/518A; and Night-rider service: NR1 and NR6 (available on Fridays and Saturdays).
By Taxi
Taxi service is available from the taxi stand situated at the main entrance. Available 24 hours, advance bookings can be made with the taxi companies with a booking fee. Electronic road payment, city area, midnight and peak hour surcharges apply. You can book for a taxi using the following local numbers:
| | |
| --- | --- |
| CityCab/Comfort Taxi | 65 6552 1111 |
| Premier Taxis | 65 6363 6888 |
| Prime Taxi | 65 6778 0808 |
| SMRT Taxis | 65 6555 8888 |
| Smart Automobile | 65 6485 7777 |
| Trans-cab | 65 6555 3333 |
| Yellow-Top Taxi | 65 6293 5545 |